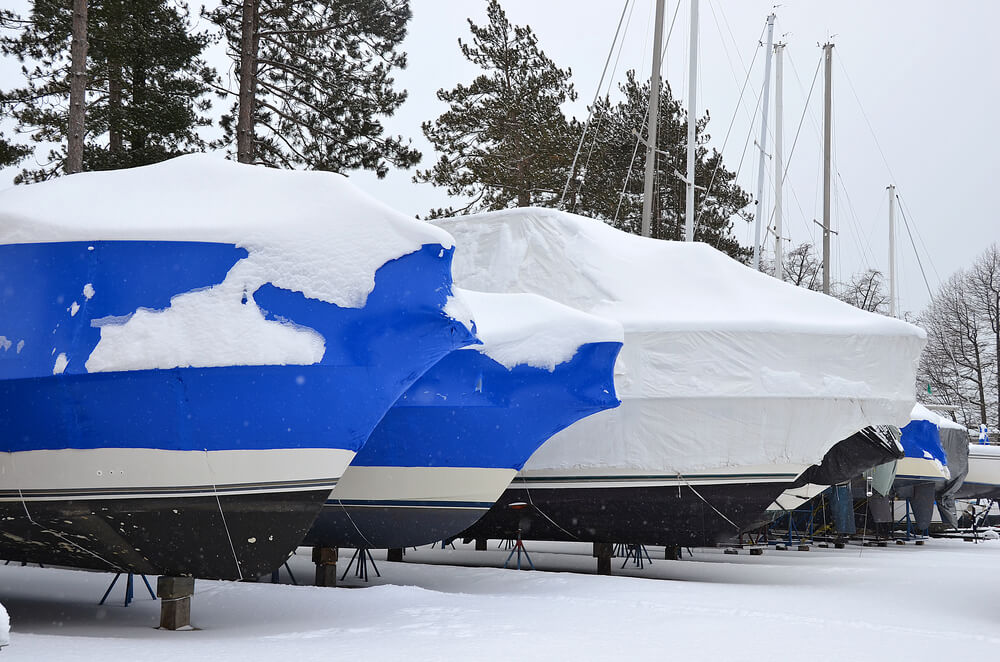 As you come to the end of a great season on your boat, it's essential to have a winter boat storage plan in place for the off-season. Without one, your boat is susceptible to damage—which can be costly and time-consuming to repair. So if you're going to keep your boat shipshape for next season, you need a storage plan. To help, we've compiled five tips for winter boat storage, so you can hit the water hassle-free in the spring.
1. Drain your boat
Once you've lifted your boat out of the water, you want to drain it completely to avoid damage caused by the expansion of freezing water. Drain the boat head, water tanks, pipes, bilge, and seacocks. If your boat has an electronic water heater, be sure to drain the tank and associated waterlines. You can accelerate water drainage by raising the bow of the ship.
2. Clean your boat and wax it
After you've drained the water from your boat, it's time to remove dirt and grime accumulated throughout the season. Use proper boat cleaners to scrub your boat in its entirety from the hull to the interior. On the boat's exterior, scrub off any plant life or barnacles that may have attached during the season. On the boat's interior, clean everything from lockers, drawers, refrigerators, freezers, seats, and more. As you clean, take note of any damage and fix it yourself or plan repairs during the off-season.
After you've scrubbed and rinsed, allow the boat to dry completely. Then, apply a coat of wax and polish evenly—this will keep your boat protected from extreme temperatures while keeping it shiny and new.
3. Winterize your boat's engine and motors
This step is essential in preparing your boat's systems for cold temperatures. Start by removing debris build-up: Flush the engine and coolant system with fresh water. If your boat is in a region with extreme temperatures, you should fill the coolant system with antifreeze. You'll also want to look at any outboard motors—clean these by flushing them with water and draining them to dry.
4. Remove and recharge your battery
To keep your battery lasting longer, you'll want to remove it from the boat and charge it completely. Clean the battery and lightly coat the terminals with grease. Store the battery in a dry place, where it won't freeze. To extend the battery's lifespan, trickle charge the battery during the off-season or charge monthly.
5. Store your boat indoors
Indoor storage is the best way to prevent damage to your boat during the winter. While you can store your boat outside on a trailer, it's not ideal for protecting your boat from the elements, pests, and vandals. And, let's face it, it can be an inconvenient eyesore for you and your neighbors if you're storing a boat outside your home.
If your boat fits into your garage, that's one option. But it's not always possible depending on your boat's size or if you want to keep your car there. If that's the case, invest in dedicated boat storage at an indoor storage facility.
At Secure Self Storage, we offer convenient, affordable indoor boat storage complete with:
Climate-controlled, covered facilities to protect your boat from extreme temperatures, inclement weather, and fading from sun damage

Extra-wide driveways to easily store and access your boat

24-hour security for peace of mind

Flexible short-term lease options for off-season storage
At Secure Self Storage, our units are ideal for all your winter storage needs—whether it's your boat, car, motorcycle, or just your seasonal décor. We're here for your winter storage needs, with locations in New York, Massachusetts, Delaware, and Washington, D.C. Contact the storage professionals at Secure Self Storage to learn more about our indoor winter boat storage options.